The British Connection 'Golf Scotland PLUS'

With Golf Scotland Plus - enjoy a golf trip to Scotland even if you do not play golf!

Travel to Scotland to experience the joys of playing golf on the best courses in world or to accompany someone for whom this is one of the best experiences in the world. Discover some of the little known hidden gems of Scotland - individuals and groups as few as 4 up to 25 people.

Golf Scotland PLUS groups travel, stay and eat together. Some play golf only. Others play golf PLUS enjoy another special interest. Others enjoy a special interest only whilst others in the group play golf.

The British Connection Inc. Golf Scotland PLUS focuses on the needs of the whole group for an entertaining learning trip which includes golf in Scotland. Enjoy Golf only or Golf PLUS Gardens, PLUS cooking, PLUS spas, PLUS history and culture. PLUS Walking and cycling, PLUS bird watching, PLUS whisky tasting and learning, PLUS Festivals and festivities or almost any other special interest available in Scotland. Small groups (as small as four people) planned with your needs in mind for golf only or golf and another special interests like visiting gardens or cooking or fly fishing.

Please request more information based on your own special interests and golfing requirements. Email sales@thebritishconnection.com Telephone 404 373 1420

Golf Scotland Plus - Tour Overview In Scotland, good golf is a given, available almost everywhere, it is what goes with the golf, even for the hard core golfer, that can often really make your trip as a couple or as a small group of friends traveling together.

Scotland Golf Plus - Authentic Special Experiences

We search out experiences for all of the members of the group, focusing on your needs and interests.

It may be that golf is all you need or your group may include avid gardeners who would love to see some Scottish gardens, meet the owners, talk to them about gardening in these Northern climes or people who love to cook and want to learn from Scottish chefs how to cook Scottish fare, venison, salmon, lamb, tatties and neeps (potatoes and turnips) - we make these arrangements. We plan just golf or match golf with great gardens to visit or golf with great cooking courses to attend, or golf and walking, cycling, literary touring, murder mystery events, bird watching and almost any special interest that you can pursue in Scotland.

Good golf in the area chosen is the initial focus followed by whatever is the special interest of the other members of the group. We suggest the best places to go for a peak experience for both golf and the special interest. Now, everyone can go on the 'golf trip' of a lifetime even if you do not play golf!

Scotland Golf Plus Hotels or a castle for your trip

Or maybe pick a castle or a cottage for your accommodation

You may like to stay in simple 3* hotels or maybe you would prefer a castle for the night or a luxury 5* hotel we plan what you need. You have heard that Scotland at New Year is a wonderful experience, and in that you are correct - it is like nowhere else and a very special holiday.

Book well ahead and enjoy the festivities of New Year and golf with cultural visits and experiences, or at any time of the year.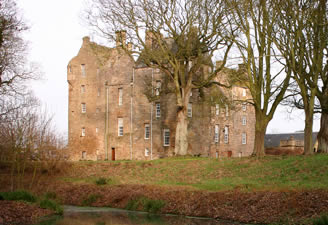 Kellie Castle in Fife

Visit Fife in Scotland Play Golf in Fife with a light house in the distance and looking out towards the Isle of May.

Fife is so well know as the home of golf, with the Old Course at St Andrews, that people forget that there are many golf courses that are hardly known on the international trail. Courses at Ely or Lundin Links Ladies course are gems to be appreciated. For added experiences, travel there for the sea birds, and great views, by boat from Anstruther where you can get the best fish and chips in the world. This lovely area offers adventure and challenge for the golfer and many opportunities for the person seeking other special experiences. This is a great place to start for your Golf Scotland Plus vacation.

Visit gardens like Kellie Castle and the Cambo estate for its walled garden and amazing snowdrops to mention just two of the many gardens in Fife to visit.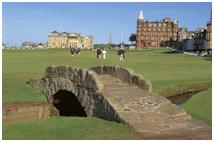 The Old Course - St. Andrews
Walk or bike the Fife Coastal path whilst some of the group play golf on the Old Course and other St Andrews courses or at Ely or maybe the lesser known Lundin Links Ladies course. If this is a group of garden lovers and golfers, whilst some play golf others can visit the lovely East Neuk garden at Cambo House famed for its snowdrops in winter or the lilac and roses in late Spring and summer or Kellie castle organic garden, always a riot of color with both flowers and vegetables inside what seems like a secret walled garden. The castle was restored by Sir Robert Lorimer, dating back to the 14th century, some say it is haunted. Visit tiny private village gardens at the picturesque fishing village of Crail. Stay in a castle in Fife, hosted by the owners, or stay in St Andrews the home of golf at the Old Course Hotel right on the course itself or at the Fairmont St Andrews both offering outstanding views, great accommodations and good food, wine and whisky tastings and don't miss the delicious some say the best in Britain fish and chips at the famed shop in Anstruther, a pretty Fife fishing village. Nearby are smaller hotels with a big welcome and cottages and bed and breakfast accommodation where your stay will not break the bank.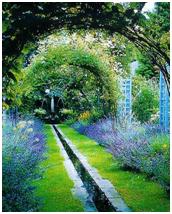 Shepherds House Gardens near Edinburgh

Visit Edinburgh and the Lothians - in Scotland Edinburgh is the center of government for Scotland and a wonderful historic city, where many festivals take place - the best known The Edinburgh festival with the military tattoo and several lesser known festivals. From the New Town built commenced in the late 1760's to the much earlier medieval parts of town , there are many historic places and castles to visit and some wonderful hotels to stay in. Close in to the city is Arthur's seat a good place for a gentle hike as are several parks in the city close to the University. Further afield many good walks can be planned for the non golfer.

Visit gardens like the wonderful private garden at Shepherds House near Edinburgh and the highly regarded Royal Botanic Gardens in Edinburgh, whilst some of the group play golf at Gullane, or other smaller golf courses in the area or try playing at the oldest golf club in the world Muirfield is the course of "The Honourable Company of Edinburgh Golfers" (HCEG), the world's oldest golf club, formed in 1744.

Visit the Highlands - in Scotland The Highlands of Scotland



If you have always wanted to see the Highlands of Scotland, keen golfers, gardeners, fishing experts, walkers, c ooking experts all have some wonderful opportunities awaiting them. For golf there is an interesting contrasting range of Scottish Highland golf experiences. A famous course the Royal Dornoch - golf has been played here since 1616 . a links course on the shores of the Dornoch firth, a good 4 hours drive from Edinburgh and 25 miles from Inverness. Flying into Inverness makes this an easy place to be. It feels northern up here. The Days are long and light - good for golf and the weather can be bracing. Beyond Dornoch is Brora golf course - worth the effort of getting there not just for the golf but for the views, the sense of being at the end of the earth in this Northern world. Continue touring further northward and for garden lovers is the Castle of May, the late Queen Mother's home and garden in Scotland. Many private gardens are open for visits and we can arrange this. Travel North West for another famous garden Inverewe, one of the best and an amazing tribute not only to the power of the warm currents of the Gulf stream but also the tenacity of Scottish gardeners to grow such delights n such a northerly area. Other golf courses are Tain and Golspie.



NTPL/Ian Shaw

Gardens and Gardeners From winter to summer we explore the golf and gardens of Scotland, through the usually mild if wet winters to the bracing springs and the summers with bright sun and warmer temperatures to the fall, when autumn leaves and dampness returns. All seasons are good for golf and spring, summer and autumn are good for gardens and many other cultural and active pursuits.

Spa and other special experiences For expert golfers and those who just love golf, For Spa experiences to cooking experiences, for expert gardeners to people who just love gardens or for whisky aficionados and aficionadas, we offer golf plus tours to all the best golf courses paying a great deal of attention to where you stay and which restaurants you visit. Of course we book your golf, advise you on the best courses, check your handicap, provide you with rented clubs if you need them. We also focus on what else you can enjoy in Scotland. From castles to cottages, from the most traditional to the trendiest of hotels, we find what suits you and your small group best.

Research your Heritage Maybe you want to learn something of your heritage or to discover more about the kilt, whisky, good food - golf you love, but you love other things too, especially if you have Scottish heritage or admire and want to research Scottish heritage.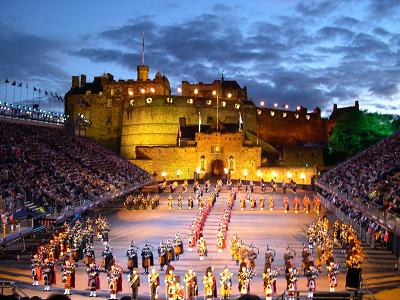 Edinburgh Festival - The Tatoo
Festivals, Festivities and Special Events Spend the Holidays and New Year in Scotland at one of the outstanding golf hotels like Gleneagles in Perthshire or Cameron House hotel on the banks of Loch Lomond. Not only will the welcome be outstanding but the golf will be highly memorable as will the festivities, the music and food. We will plan your trip to include the golf and other activities to fit with what your group likes best.
Perhaps a wedding in a castle is planned for the bride and groom and their group. We can plan the wedding and honeymoon and a trip after the wedding for the guests both golfer and non golfer with Golf Scotland Plus.
The British Connection Golf Scotland Plus works on your custom trip with care and attention to detail based on your requirements for golf only or golf and a special interest.
Get in touch with us to discuss your trip: The British Connection. Inc. PO BOX 15495 Atlanta, GA 30333 USA
Telephone: 404 373 1420 / 1 800 420 2569 sales@thebritishconnection.com